The Problem
Businesses are getting more and more connected, but they are also getting more mobile. Executive decisions are also much more business-driven in today's climate, and there is an ever greater great demand for easily accessible metrics in the form of business dashboards. Traditional legacy dashboarding solutions, such as SAP's Xcelsius, are great for keeping track of high-level metrics, but are designed for desktop systems.
Today's mobie BI solutions, such as geckoboard, and Chart.io are more portable, but do not offer direct integration with enterprise back-ends.
Moappi was created to solve both problems, and more.
The Solution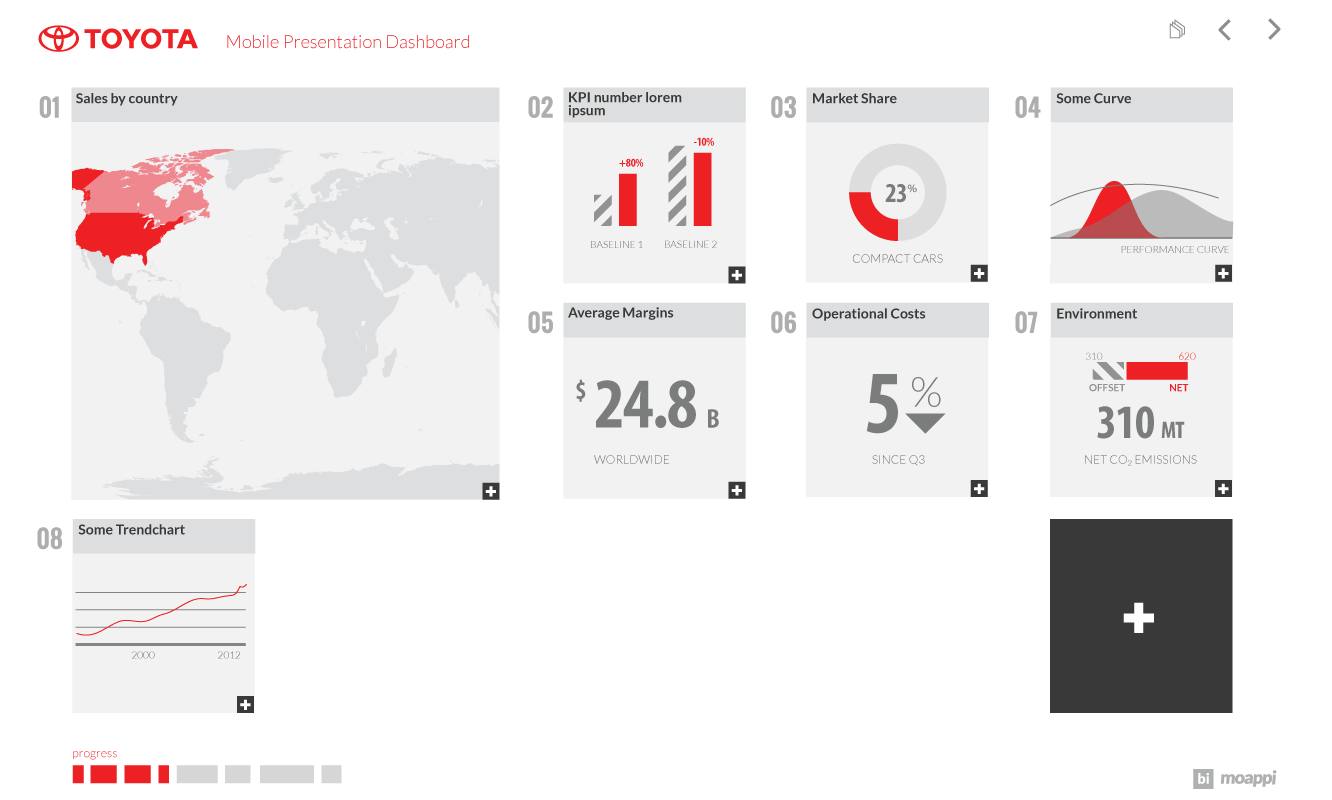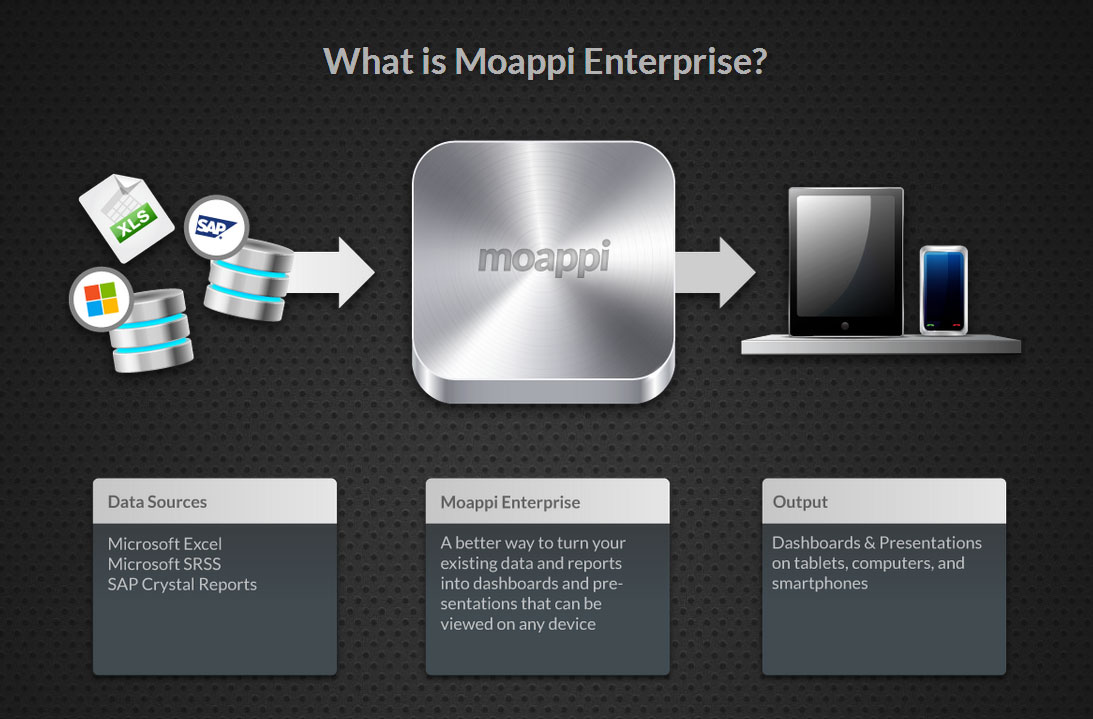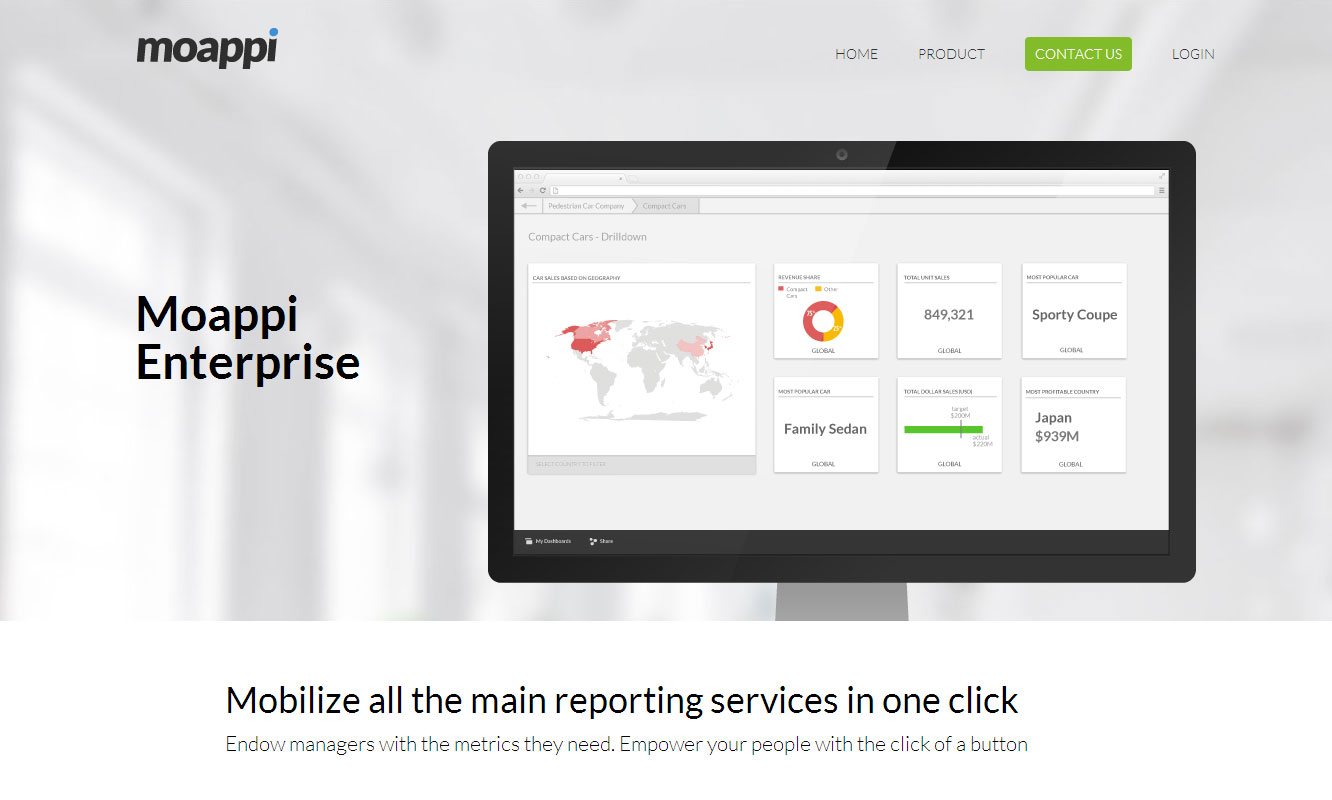 When we helped create Moappi with Chad Brown, CEO of Crystalline Technologies, we had a blank canvas for which to design the system.
The real challenge was to create a dashboarding experience that had a consistent look and feel across devices, and also across various data inputs and outputs. Our solution to this problem was to standardize all charts and graphs with a consistent layout, and incorporate muted colours --an endeavor that transcended design, and involved solving a multitude of front-end engineering challenges.
The next challenge was to produce a compelling marketing page to sell the product. While a turnkey solution didn't yet exist for enterprise, the page had to convey that the moappi platform existed on multiple devices through the use of interactive demos and mockups. The product had to look complete, despite the absence of real applications.
The Result
The moappi product was launched, and continues to evolve today.
The site achieved its goals, and more. With interest from various multinational corporations, such as Tyco, the Moappi platform is poised to change the world of mobile BI.
OUR INVOLVEMENT



Engineering

Sales-page development
Front-end development



Branding

Competitor Research
Industry Research
Visual Identity



Product

UX Design & Architecture
UI Design
Product Ideation